Data Connectivity
Using satellite technology to transform IoT connectivity across industries and  geographical borders
The Global Reliable IoT Solution
Satellite can be used to provide communications for land transport: rail, cargo, trucks and other vehicles. 
Transportation and supply chain connectivity, including autonomous trains and tankers, require SLA-demanding M2M/IoT connectivity services for tracking, security and condition monitoring purposes. Oil and gas, utility, forestry and mining companies require M2M and IoT services for asset, people and tank level tracking, on-site staff communications or SCADA telemetry and monitoring backhauls.
From tracking assets to remotely communicating with systems all over the globe, satellite connectivity helps keep machines connected, expand application each and enable data communications virtually anywhere.
Oil and Gas pipeline monitoring
BGAN M2M is ideal for applications with data volume requirements ranging from megabytes to gigabytes, such as real-time surveillance or high-volume metering and telemetry. It provides full IP data connectivity supported by remote terminal management, debugging and configuration options and using robust and lightweight hardware, BGAN M2M enables a wide range of M2M applications.
BGAN-M2M offers a range of plans from low usage small scale deployments through bulk pooled data use for large-scale distributors.  Standard IP connectivity makes BGAN-M2M "plug and play" for many conventional M2M and IoT applications and devices. Pooled data plans reduce risk of unexpected costs if an anomaly occurs on a remote machine.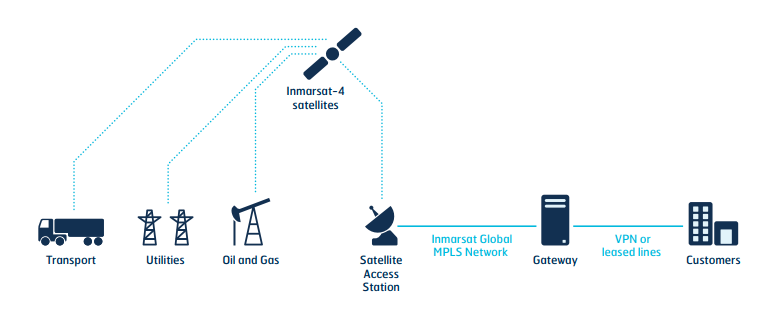 Global coverage
BGAN M2M offers you 99.9% availability wherever you are, except in the extreme polar regions.
Performance & latency
Send data using BGAN Standard IP at a rate of up to 448kbps with a low latency from 800 milliseconds, assuring real-time visibility of critical data.
Easily integrated
Simple for field teams to set up and integrate with bespoke applications, and to maintain without technical expertise or training
Enhanced support
Free firmware upgrade over the Inmarsat-4 network, so field personnel do not have to be deployed to visit remote sites to perform the task
Weather & environmental monitoring
IP SCADA for data backhaul
INMARSAT
BGAN + BGAN Link
Inmarsat's BGAN service provides simultaneous data and voice communications via satellite to a range of compact terminals. Delivered by a satellite network operating in the L-band, the core service achieves availability rates of 99.9 per cent and security that meets military and government standards. BGAN is capable of being used in both fixed and vehicular applications, achieving Standard IP data speeds of up to 492kbps and streaming speeds from 32bps to 800kbps (BGAN HDR).
Remote workers & Maintenance fleets
Providing remote oil and gas, mining and utilities workers with proven, reliable and always-on connectivity when they need it most : office connectivity and video conferencing, telemetry and push-to-talk capabilities
Exploration teams
for oil and gas, construction and mining sectors to stream visual data from site surveys
Train operators
Low-form factor satellite terminals are installed on locomotives, which provide real-time GPS, telemetry and PTT capabilities worldwide. 
Control centres can safely & efficiently oversee and schedule the locomotives and goods movement across the rail network as well as  enable communications with the crew.
Agriculture & Mining
for providing in-field connectivity for workers and vehicles or connecting heavy industry vehicle operators and control centres
Simultaneous voice & data
For reliability, security and scalability, nothing compares to Inmarsat's IsatData Pro (IDP) service. From simple tracking and monitoring to more sophisticated telemetry, logistics and safety compliance, IDP provides mission-critical data connectivity in a compact, affordable package. Use it as a stand-alone satellite connection for truly remote assets, or a mobile business continuity when coverage, events or disasters impact the availability of cellular networks.
Featuring global connectivity and operating in near real-time, IDP enables and enhances a host of industrial IoT applications where event driven messaging is key. With a host of easily integratable hardware options, very low power usage, and flexible service plans IDP provides mission critical data connectivity in a compact, affordable package.
IsatData Pro :
RELIABLE, EVENT-DRIVEN DATA SERVICES
Transportation
For mission critical applications, IDP can transmit a 100 byte message in less than 15 seconds – or a 1,000 byte message in 45 seconds. Ideal for sending information to drivers operating in high-risk areas.
Share more data across diverse operations via emails, electronic forms and workflow information :
vehicle telemetry information

maintaining driver logs

sensors to closely monitor assets
Utilities
to monitor tank levels, safety shut-offs and intrusion detection
Oil & Gas
Never send an employee to manually check the status of a remote wellhead or pipeline again – IDP can provide regulatory compliance and improve worker safety.
Satellite solutions guarantee data
connectivity where cellular & radio are not feasible. Provide backup for critical locations that must be monitored constantly to ensure system integrity, from offshore rigs to the most remote oilfields.
Mining
Provide vehicle tracking, monitoring and control of remote industrial mechanisms
Agriculture
IDP is ideal for remote monitoring & control of on-farm infrastructure such as irrigation systems, weather stations, cattle weight systems and water storage units which help farmers to reduce the cost of physically monitoring their assets, as well as providing peace of mind.  Asset tracking is growing in importance, from predictive maintenance and location of farm machinery to traceability and tracking of agricultural commodities through the global supply chain.
Agritech companies present solutions designed to make farming more resource efficient and productive than ever before and using satellite IDP, they are not restricted by poor connectivity. 
Compact, omnidirectional antenna
Ultra-low power consumption