SABRE Ranger 5000
Ruggedized BGAN/M2M for Remote SCADA Applications
The SABRE Ranger 5000 is a compact all-IP M2M satellite terminal, built to provide reliable & secure IP data connection with a ruggedized  IP66 rated design for all weather conditions. The kit includes the stainless steel mounting bracket, easy set up with effortless antenna pointing. 
The Ranger 5000 comes with a host of legacy device interfaces, continue your operations by bringing legacy and new equipment together on the same network. The RS485 Modbus interface supports direct connection of multiple sensors without the need of using a separate Remote Terminal Unit (RTU). Ultra-low idle power consumption allows use of small solar panels to power up, the perfect end-to-end IP connectivity for sites that are off-grid.
This terminal is fully compatible with Voltron which allows the user to graphically view the location of the terminal and the terminal status. The PDP context can be activated or deactivated remotely via SMS; in times when users need to reboot the terminal, the rebooting process can also be initiated via SMS; the terminal can be configured remotely using SMS commands; and logs can be retrieved remotely for debugging. 
Remote configuration and debugging
Built-in GPIOs, RS232 & ethernet ports
24/7 Always-On capability
Ultra-low idle power consumption
Single unit with integrated antenna (all-in-one)
Operates over Inmarsat's reliable BGAN M2M service
The Ranger 5000 Applications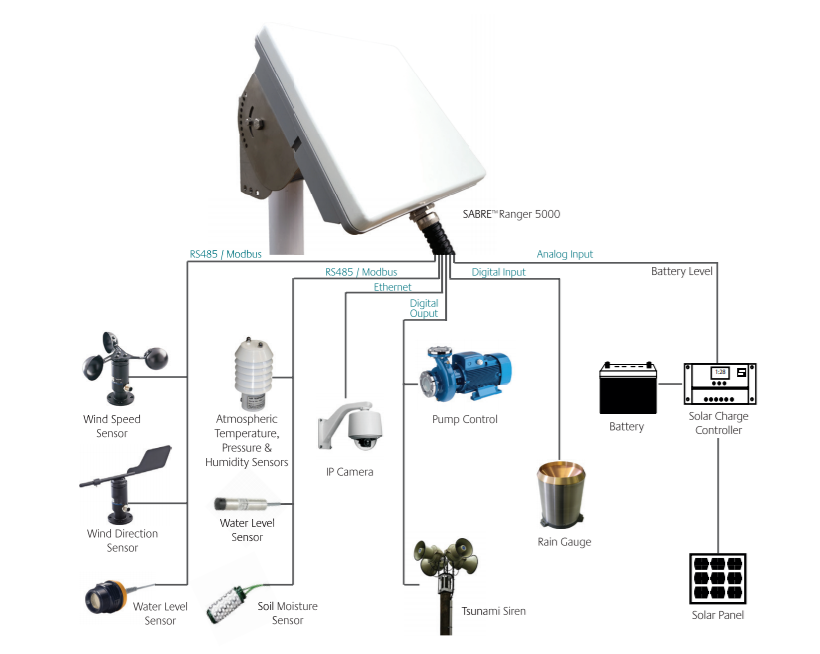 Utilities
Recloser control
Transformer monitoring
Distribution automation
Solar & wind monitoring
Advanced metering infrastructure (AMI)
Hydro power-capacity planning
Sub-station monitoring
Oil and Gas
Pipeline monitoring
Flow measurement
Wellsite monitoring & control                        
Mining
Asset tracking
Geo fencing
Remote automation & control
Environmental/Agriculture
Water management and flood warning
Earthquake warning
Tsunami monitoring
Smart Farming
Weather monitoring